Do you have thousands of your files in WordPress media library? And you have trouble managing them? FileBird – WordPress Media Library Folders plugin was born to help you take your WordPress media library to the next level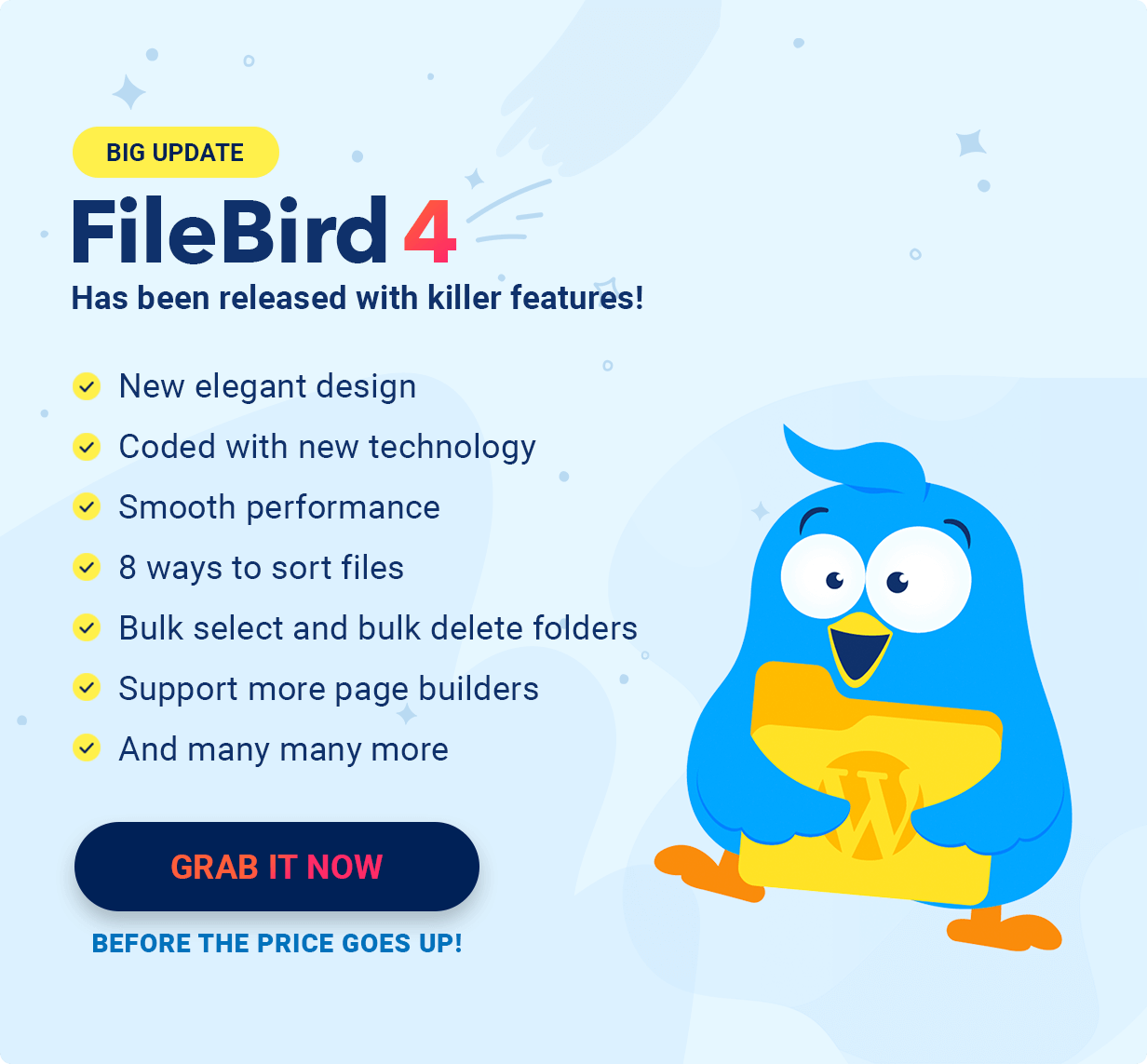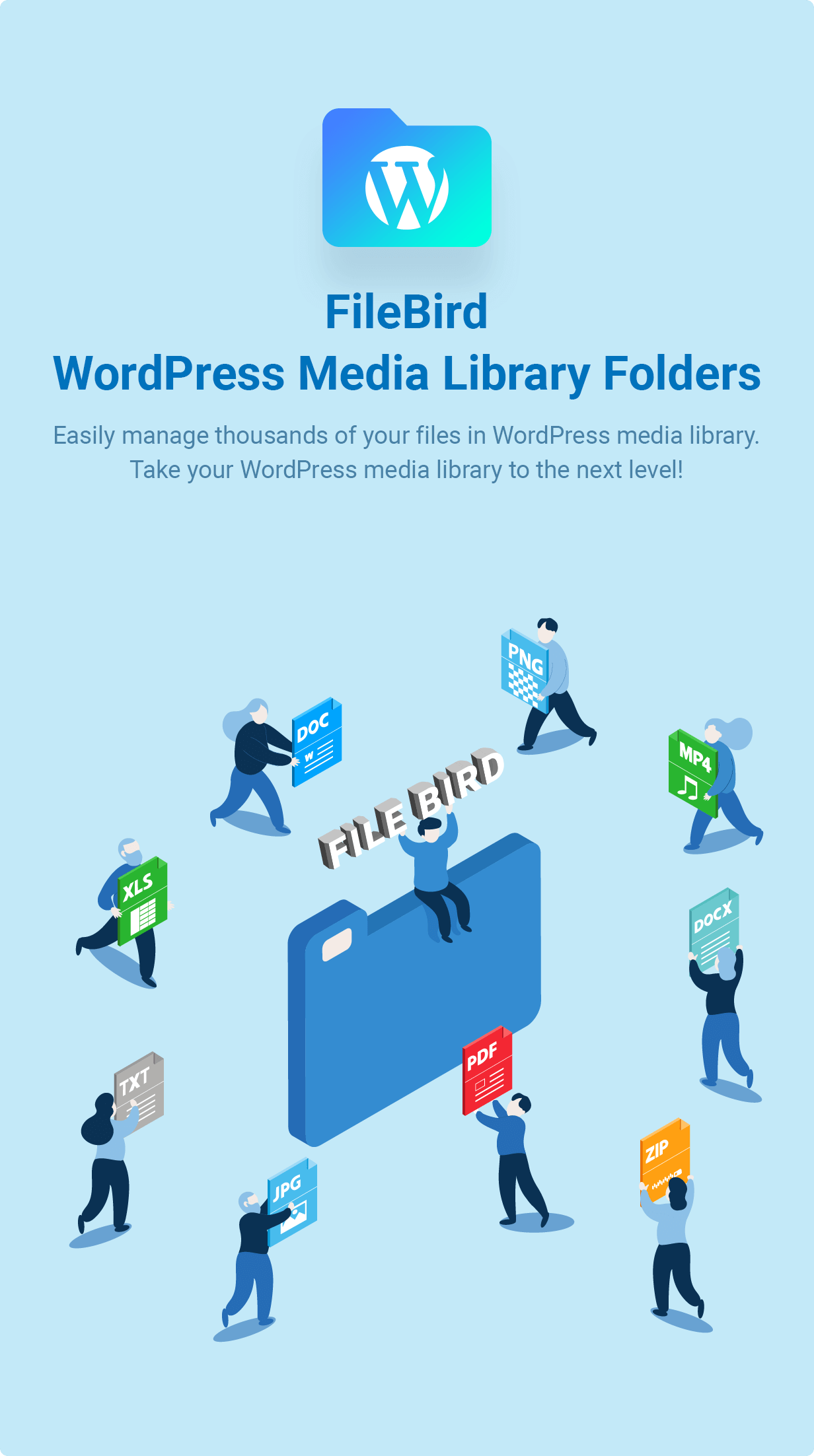 SCREENSHOTS
EASILY CREATE, RENAME OR DELETE FOLDERS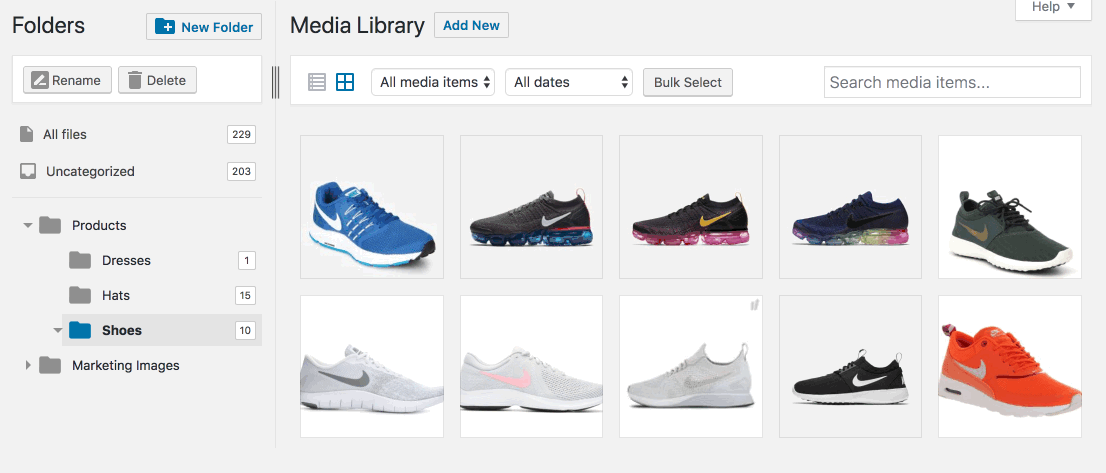 EASILY DRAG, DROP FILES / FOLDERS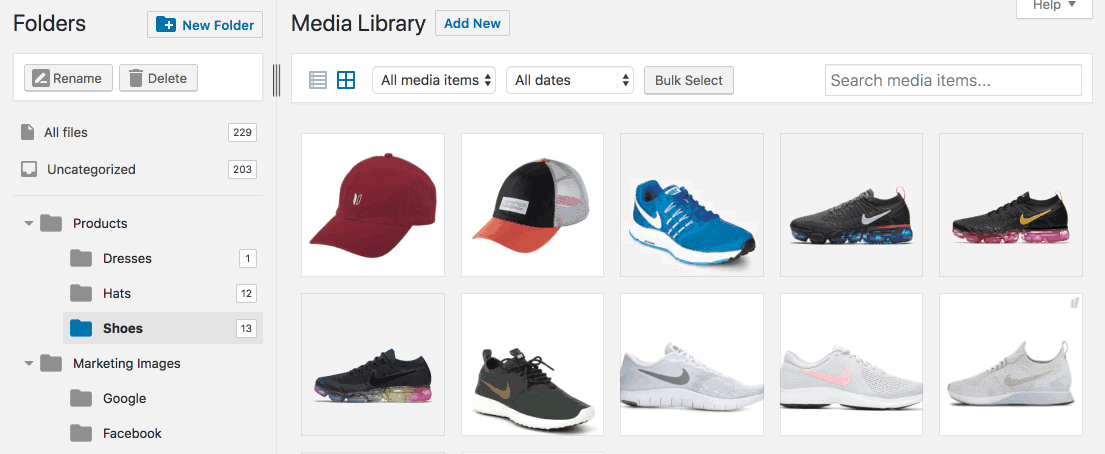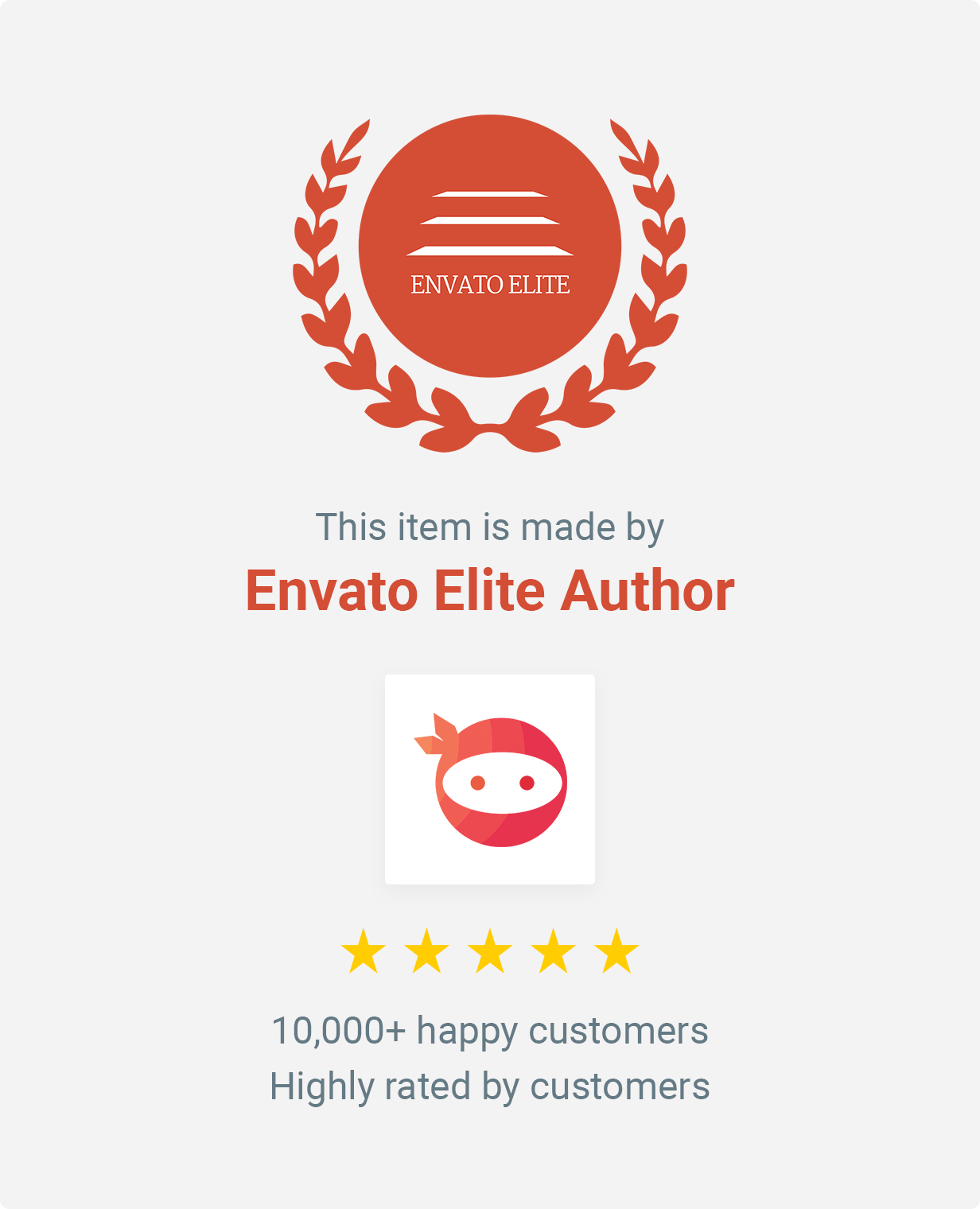 WHAT CUSTOMERS SAY ABOUT FILEBIRD?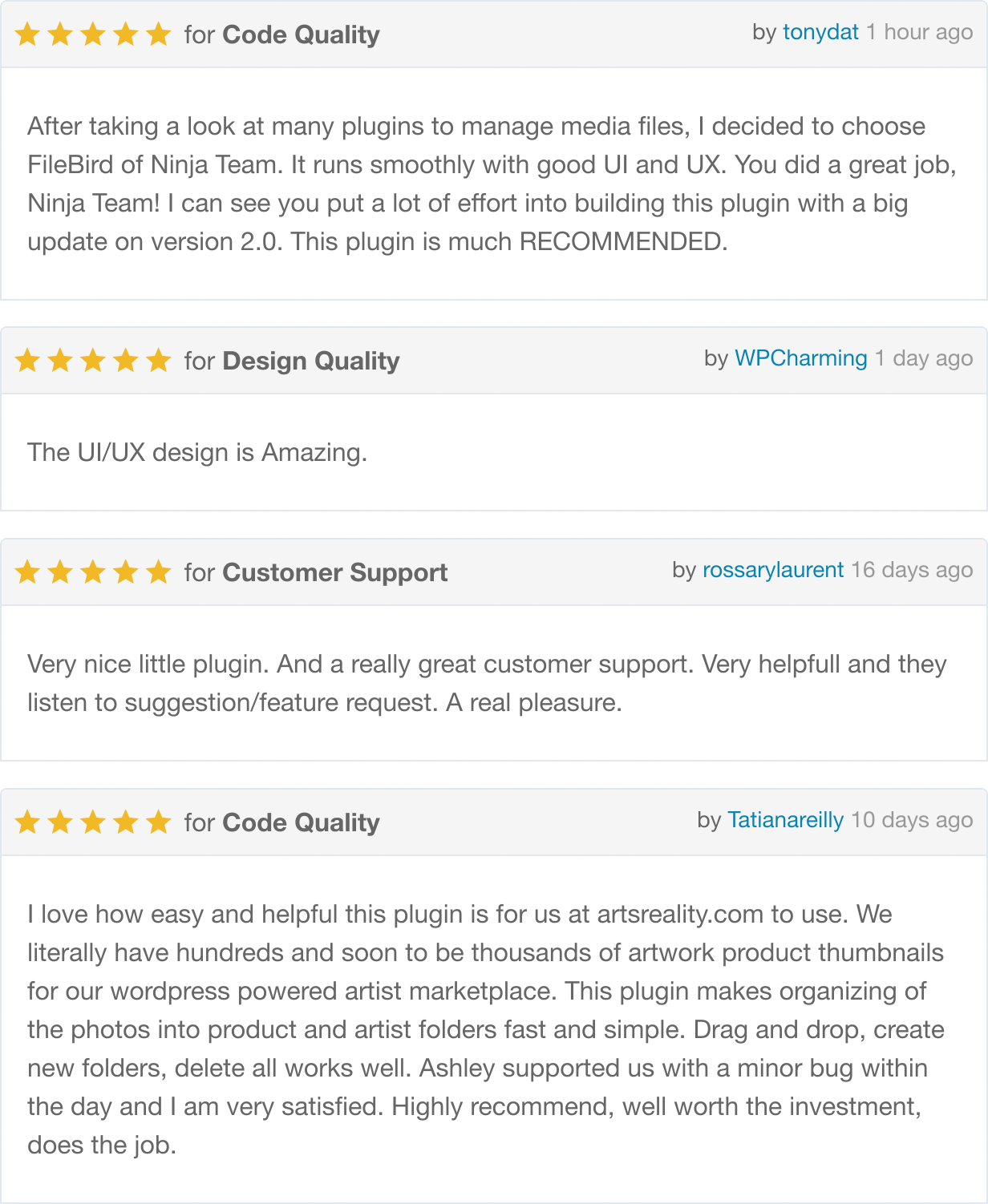 HOW IT WORKS
Are you a WordPress website administrator?
Developing a site means that you'll be adding tons of new media files such as images, videos, audios, PDF, txt, docx, .ect into your site database day by day. As a result, your site will have to store thousands of files. In the default WordPress media database, you are not able to arrange files in a logical manner and you wish you could do that like what you do with your files in your own computer, right? When you want to look for a particular uploaded file on your WordPress site, don't you know how to find it?
FileBird – WordPress Media Library Folders was born to help you overcome the obstacle. This plugin gives you the ability to easily organize your files in media library of your site. With this tool in hand, you can manage and arrange thousands of images, audios, videos, and other files in your media library.
Managing files in WordPress has never been easier. You are able to just drag and drop to upload or move files/ folders. This will help you save a ton of time that goes into putting your media files in place. The hierarchical view of your folders will also make things easier for you to quickly find specific folders in just a blink of an eye.
FEATURES
DRAG AND DROP INTERFACE
Drag and drop is now becoming a modern standard. Native drag events including moving files to folder and folder to folder in just a blade reduce the amount of your clicks to complete your tasks.
FOLDER TREE DISPLAYED WITH TOP-NOTCH DESIGN
We follow the latest trends in composing icons, buttons, labels, sections and draggable elements. All Ninja Team's plugins are written with clean quality codes and UI/UX inspired designs.
SUPERIOR FILE BROWSER IN PAGE BUILDERS
Open page builder you're using, simply insert an image element and directly browse files in the same interface of FileBird native media library folders. This is the exquisite feature that FileBird exclusively has to offer you.
EMBEDDED GALLLERY WITH FILEBIRD GUTENBERG BLOCK
Simply add a 'FileBird Gallery' block into your page/post composer and choose the folder(s) you want to show. All media files in the folder(s) choosen will be automatically displayed in your post. Also, custom column number, link, caption and crop images.
SPECIFIC FOLDER UPLOAD
With FileBird you can upload many files at a time to the WP folder you want them to stay. Just choose a specific folder from the dropdown menu in 'Upload New Media'. Creating such collections has never been easier.
CONVENIENT LIBRARY
Your image gallery now has alternative views in list or thumbnail. Just choose the best view for you to make the fastest bulk select, rearrangement or other actions. Ascending and descending order sort are also available.
CUSTOMIZABLE SIDEBAR
What's more? Your sub-sidebar is resizable to fit your own name lists. Or you can also collapse it to focus on the folder you're currently working on.
PAINLESS MIGRATION
We care, therefore we build. And now if you already use Enhanced Media Library by wpUXsolutions or Media Library Folders by Max Foundry, you can easily import all folders at once.
FLEXIBLE MEDIA TAXONOMIES
Multi-level structure surely helps you do filtering, categorization and administration right in native WP dashboard. Even if your library grows to thousands of files, the taxonomy system still does its job for you.
CMS OPTIMIZATION
Advantageous performance improves Content Management System by reducing your duration of administration as well as the cost of operation and maintenance. Hence, effective management attained.
ASSISTIVE SEO
Media file hierarchy sets a proper order for all collaborative members to easily follow up changes and events. You're not doing your website alone, right? So you have to keep it aligned for teamwork, especially SEO associates.
INTELLIGENT DELETE
Add or rename a folder is just a click away. And so is delete a folder. However, you're not losing your data. All your files are moved to 'Uncategorized' folder, so that you still can use them later. Everything you need are at hand.
MULTI-LANGUAGE SUPPORTED
All manipulative menus and labels are translated so that you don't have to. Just one click to install and you don't have to look up any word. Definitely clean UI/UX makes it so intuitive that reading documentation is no longer needed.
VERSATILE COMPATIBILITY
FileBird is readily built compatible with popular themes, page builders and other 3rd parties like WooCommerce, WPML, WPBakery, Elementor, Gutenberg, Beaver Builder, Divi, Thrive Architect, Slider Revolution, Smush, etc.
NEW FEATURE WANTED?
Last but not least, if you need any more function that does not include in the premium version, just leave us a feedback. We might develop that feature in the next versions JUST FOR YOU!
FAQs
Q: Where can I find the Documentation for this plugin?
A: You can find it here https://ninjateam.gitbook.io/filebird/
Q: When I create a new post, how can I choose an uploaded file in a specific folder?
A: Yes, you can use the folder tree on the left or choose the folder in the dropdown list of the filter box beside the search box.
Q: Do all of my uploaded files remain the same after I first install this plugin?
A: Yes, they do.
Q: If I create a folder or category, does this override the default WordPress path "wp-content/uploads"?
A: No, it does not. The plugin helps organize files into folders visually. The file default path still remains.
Q: How can I bulk select multiple files and put them into a folder?
A: You can use the Bulk select Button in media grid, bulk select files you want and just drag them into a folder.
Q: When I move an image to another folder, does this action affect the image appearance on my frontend?
A: No, it does not. The image is still displayed correctly on the site frontend, and the file path is not changed.
Q: How can I update FileBird to the lastest version?
A: You can follow this guide https://ninjateam.gitbook.io/filebird/how-to-update-filebird

v